Unfortunately, we have suspended sales indefinitely due to production stoppage. We are so sorry for the inconvenience, and hope you continue to use your sweet seat!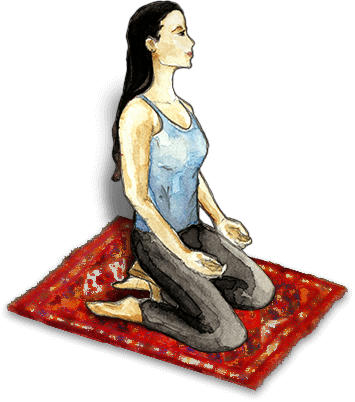 Crafted from 100% solid, sustainable American Cherry heartwood, simplysitting's 'sweet seat' is an evolutionary leap in design.
Unlike rigid, flat, two-legged benches, the seat is self-centering and curved for comfort. The revolutionary, patented, pedestal leg is so stable and perfectly balanced it will stand on its own.
The seat promotes perfect posture and allows for full, expansive breathing as it supports you weightlessly. Its ingenious design allows you to roll gently in all directions and out of any discomfort.
The ultra lightweight package breaks down in one swift, snappy magnetic motion, and tucks into a rugged, handmade merino wool sleeve for easy portability.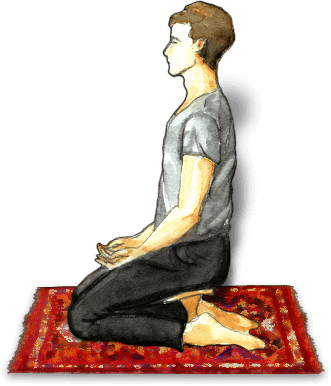 Smaller and lighter than a notebook, the seat and sleeve easily slip into your bag or backpack.
Beginners, longtime meditators, yogis, doctors and holistic practitioners find the sweet seat provides an elegant and simple solution to poor posture, restricted breathing, slouching and knee, back and ankle pain.
It also eliminates the need to buy, store, transport or clean bulky mats and cushions.
And if you are looking for some extra motivation for your meditation, this cherry keepsake makes an irresistible invitation to daily practice!
All items are handcrafted by lifelong woodworkers in the Pennsylvania Wilds and guaranteed so you can own a piece of American craftsmanship that will last a lifetime.
organically designed, actively inspired
We believe the sweet seat to be the best meditation bench on the planet.
WARNING: User may experience symptoms of sudden onset enlightenment or rapid, unexplained ego reduction. simplysitting will not be responsible for occurrence of spontaneous awakening while using our seats. Ask your doctor if meditation is right for you.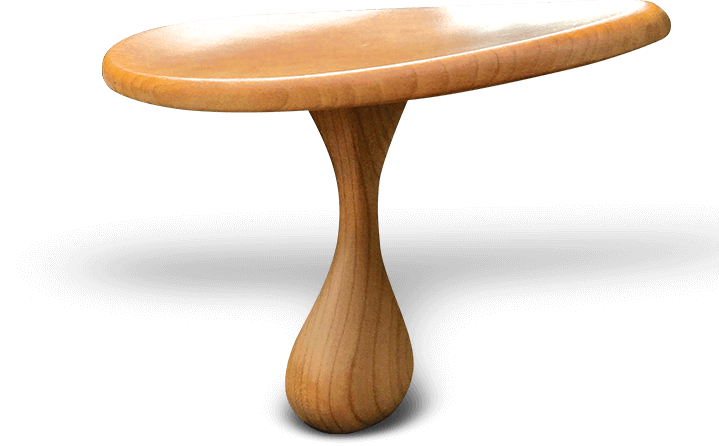 By balancing over the seat's pivot point, our spine naturally settles into perfectly stacked vertical alignment for a uniquely pleasant, "floating but grounded" sensation. Perfect posture becomes the path of least resistance and the spine feels lifted, not compressed. The awareness of our core gently engaging to support us, unites our body and mind, roots us in the present moment, and creates a simple, strong and stable foundation for focused meditation. While sitting, our muscle memory takes notes as we develop a peripheral and constant awareness of where our spine is and we carry this upright sensation with us throughout the day.
In short, the "sweet seat" makes us want to sit down, once we are sitting we tend to want to stay there, and when we get up we are changed for the better!
What people are saying...
My wooden seat from simplysitting is a brilliant new addition to my practice.
Elena Brower
teacher, speaker, and co-author of "Art of Attention"
I love it! I feel very comfy and steady on it, and love to look at this beautiful object in my living room. People are intrigued by it, so it is also a conversation piece! You did beautiful work, great design. I love the bag also, and how easy it is to carry everywhere. I wanted to express my satisfaction. Thanks for it- it serves me well.
Pascal Auclair
co-founder of True North Insight, teacher at Spirit Rock and Insight Meditation Society
The seat is amazing! It taps into a link that literally balances the physical and energetic. The spine is lifted instead of grounded and the result is astounding. This is a total game changer!
Christine Fowle
founder Udumbara Yoga, author of Searching for OM
It's great — not only is it comfortable, but it makes it almost impossible not to sit up straight. Genius.
Joseph Miller
author/meditator NYC
I have never been able to comfortably sit on any bench for meditation, so I was shocked at how comfortable this seat is- no strained ankles or feet, and my knees have no pressure on them. Wow, what an exquisite design!
James Skylar
Vipassana meditator and entrepreneur, Blue Can and Thrive Pure Water, LA
My husband and I are singing the praises of your sweet seat. We really love them and think of you with gratitude every time we sit. Thanks for helping my practice beyond words.
Kara Veeder
This wonderful seat allows us to instantly fall into place. Its design invites us to bring our awareness to the base of the spine turning the spine into an antenna – receptive, open, expansive, fluid. The simplysitting seat has imprinted my body in such a way that now when I sit on a cushion or blanket, I am reminded to effortlessly sit upright. It's groundbreaking. I totally dig it!
Rima Rabbath
Jivamukti yoga teacher & founder of soukofrima.com
A great tool. It's stable and still allows for subtle movement in all directions. It's like sitting on a cloud while staying grounded to the earth.
Prakash Wilterdink
teacher/staff at Integral Yoga Institute
I'm positively delighted with this meditation bench! It's portable, easy to store beneath a couch, while light enough to carry along in a backpack to a remote location for a memorable sit; it works in a way that naturally provides my lower back all the support it needs to sit for extended periods of time. Good work!
Josh Korda
Founder-Dharmapunx NYC
Sitting on my new seat, face awash with the setting sun, I was so comfortable I think I must've fallen asleep. Upright. A first for me. So beautifully crafted and designed, ingenious in fact. It's definitely an incentive to keep up a regular practice.
Sandy Greenway
London, UK
Unexpectedly centering. Brings you right to your center and holds you there. Joint and body-friendly support encourages time spent in healing quiet.
Dr. Kathleen Fernan
DO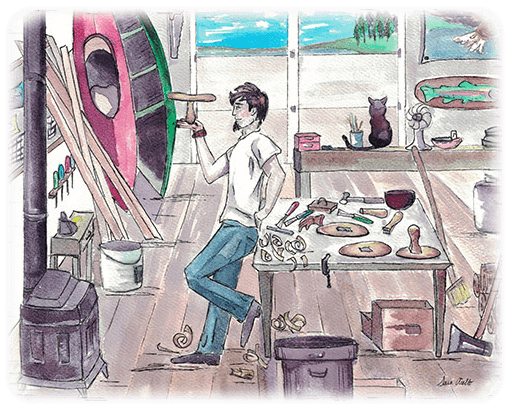 simplysitting seats were conceived after designer, lifelong woodworker, and long time meditator Sean Hawk pressed pause on his hectic schedule to attend a 10-day silent sitting retreat. As the days and hours passed he struggled to keep from slouching and to maintain proper posture while a throbbing lower back kept him meditating mostly on the nature of suffering. He stuffed an endless array of pillows, bolsters, and cushions under painfully twisted knees and ankles while trying not to disturb the other meditators. He even tried the punishing planks that passed for benches but found no peaceful relief.
Nonetheless, he left the retreat with clarity of mind, brimming over with creative energy and determined to create a better, simpler, more comfortable and portable meditation seat than the ones that left his rear end sore and his monkey mind chattering.
He dashed to his workshop by the woods and began obsessively working the idea out of his head and into the world. He chipped away at chunks of firewood until an elegant, simple solution was revealed and he was satisfied he had found the answer he had been looking for: a sweet seat that is curved for comfort, supports you in perfect posture, allows for infinite, silent adjustment, and is so light and portable you can take it anywhere- to class, to group, or to your favorite solitary spot at home or by river, desert, mountain, or sea. His solution was so unique it was patented, and so instantly popular with meditators, that simplysitting was born!
this machine kills egos story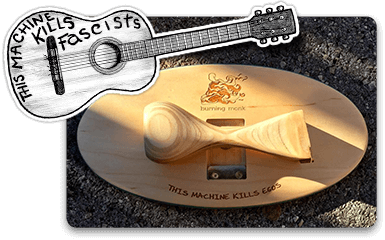 Our "this machine kills egos" is a slightly subversive slogan that pays homage to true original Woody Guthrie's indomitable spirit (and fascist slaying guitar) Our timely twist on these iconic words is no call to arms but an urgent reminder that our meditation practice can help us to see things as they truly are, soften the edges of rigid identity, feel less "less than" and less "more than" and just "right sized".
Ultimately connected.
Maybe even ONE with all creation.
take your seat